General Information
Emmaus Catholic Primary School has been built in answer to parishioners' requests for Catholic primary education.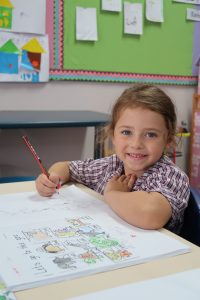 We enrol:
Baptised Catholic children (Baptism certificates required on enrolment)

Families living within the Sacred Heart / Emmaus parish boundaries and

Families belonging to Sacred Heart / Emmaus parish through "praying , working and sharing ."

Each school has its own designated boundaries within the parish.
On enrolment Families are required to pay Thanksgiving to the Parish. To organise Thanksgiving please call the Parish on 9366 2146
School Fees
There are different ways school fees can be paid, fortnightly, monthly, termly and yearly. . Fees are kept as low as possible to make Catholic Primary Education affordable for all our parishioners. School fees include stationery, excursions and information technology levy. School fees do not include school camp for Year 6 students.
2020 School Fees:
1 child =$1830.00
2 children = $2550.00
3 children = $3270.00
Prep Orientation
As preparation for their first year of school, kindergarten children attend a Prep orientation program at the school. The children attend three sessions where they become familiar with the school environment. They take part in various activities.
Classes
These are the class structures for 2021.  Currently we have an average class size of 22 children. We aim to keep our classes low by giving our classroom teachers extra support .
3 classes of Prep (Foundation)

3 classes of Year 1

3 classes of Year 2

3 classes of Year 3

3 classes of Year 4

3 classes of Year 5

3 classes of Year 6