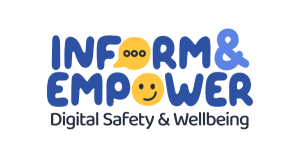 Emmaus Catholic Primary School has partnered with the team at Inform and Empower to help guide and support our students through their learning and understanding of digital safety and wellbeing both at school and home.
Students participate each term in live streamed incursions with other schools around the country that focus on different aspects of online safety and wellbeing.
Our school staff participate in professional development and are provided resources to help support and continue student learning and understanding in these key areas.
Our families are provided with resources that align with the incursion focus each term that help build relationships and continue conversations.
As part of our 1:1 device program at the school, the team at Inform and Empower host an information night that explores and begins the discussion of online safety and ways that we can ensure be proactive to protect. This night is compulsory for families in Grade 5 and the families of new students in Grade Five and Six.
To access family resources, please use the following link: